Archive
2nd Call for Papers – International Workshop Dispersion Analysis and Materials Testing 2015 – First programme highlights
Berlin, 8 October 2014

Information de Presse: LUM s'implante directement en France
Berlin, le 1.10.2014
Press release: LUM now directly in France
Berlin, 1.10.2014


Call for Papers – International Workshop Dispersion Analysis and Materials Testing 2015
Berlin, 1.10.2014

Call for LUM Young Scientist Award 2015
Berlin, 1 July 2014
LUM sponsors World Congress on Particle Technology 7 in China – News from Nano Measuring Instrumentation
Berlin, 29 April 2014


Fünftes Anwenderseminar 2D/3D Rheologie und Stabilität von dispersen Systemen
Berlin, 24.03.2014


Israeli Researcher awarded Young Scientist 2014 for dispersion analysis
Berlin, 06.03.2014
Spanish Sales Success for LUM and excellent customer loyalty program in Israel
Berlin, 04.03.2014
International Workshop Dispersion Analysis and Materials Testing in Berlin, Germany, 23-24 January 2014
Berlin, 23.12.2013
Grafen Co. and LUM GmbH Jointly Develop Chemical Exfoliation Process for Graphene Production

Berlin, 05.11.2013
High concentrated dispersions and packed sediments X-rayed: German Federal Office for Radiation Protection granted type approval for separation analyser made by LUM

Berlin, 15.10.2013
Call for application for Young Scientist Award 2014 – Particle, Dispersion Characterization and Material Testing

Berlin, 19.8.2013
Spanish Crisis does not effect LUM products

LUM awarded Spanish partner Best Distributor 2012 (Berlin, 11.03.2013)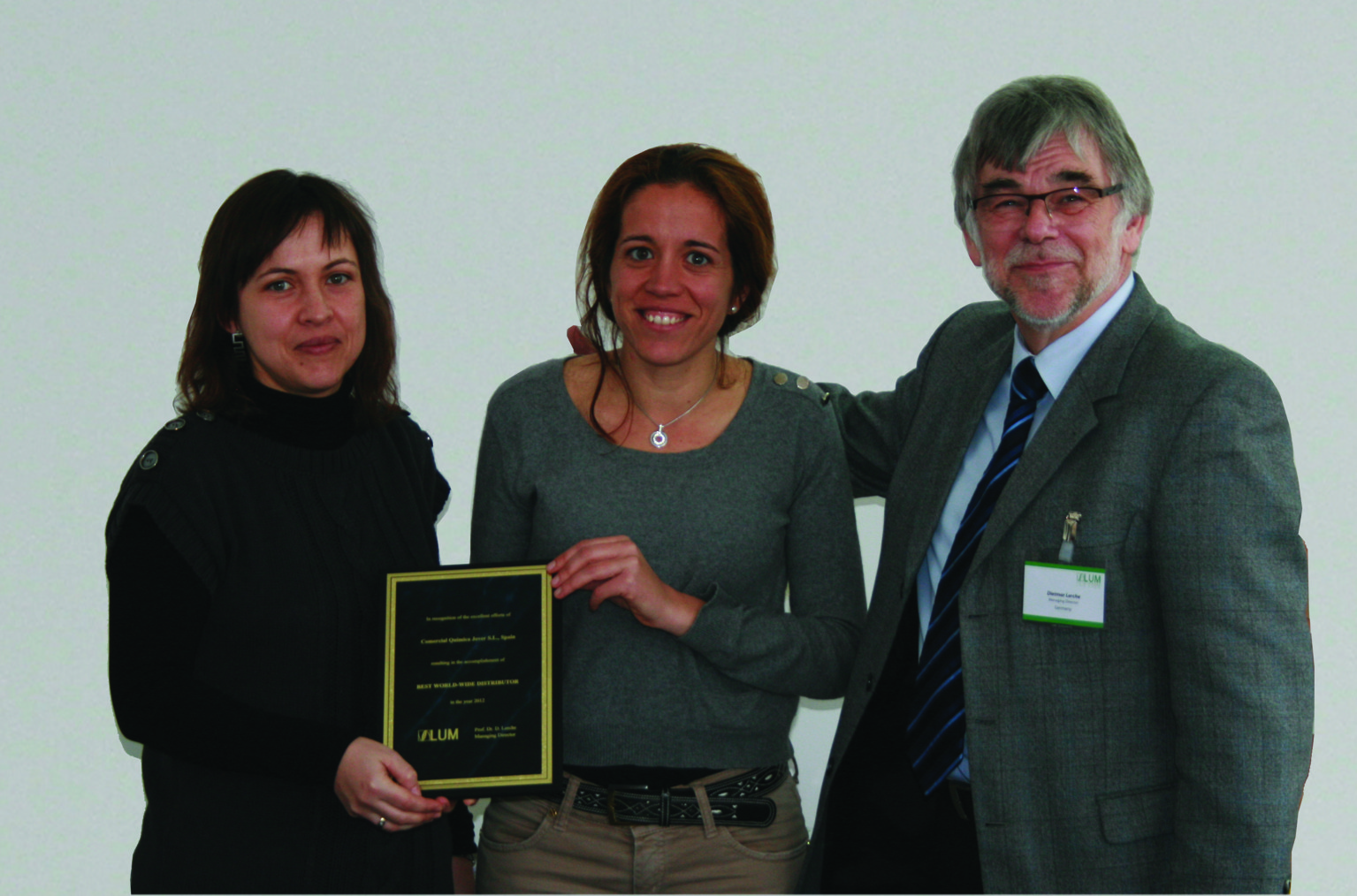 LUM Innovationen POWTECH/PARTEC 2013: Volumenbasierte Partikelgrößenverteilung ohne Brechungsindex - Multiwellenlängen-LUMiReader®PSA und Multiwellenlängen-LUMiSizer® 65x
Berlin, 04.03.2013
Stability of cosmetic products – Particle characterization of raw material: LUM presents innovations during in-cosmetics 2013
Berlin, 01.03.2013
So test therefore, what join forever - New centrifuge technology will enable multi-sample adhesive and composite strength testing

Joint Press Release BAM Federal Institute for Materials Research and Testing / LUM GmbH (Berlin, 19.02.2013)
About dispersible nanoparticles, stable pigment pastes, hot cooked cheese and adhesives
International Workshop Dispersion Analysis and Material Testing in Berlin, March 7-8 (Berlin, 11.01.2013)
Perfect or poor? The award-winning Adhesion Analyser LUMiFrac will find out.


The Innovation Prize Berlin Brandenburg 2012 was awarded to LUM (Berlin, 26.11.2012)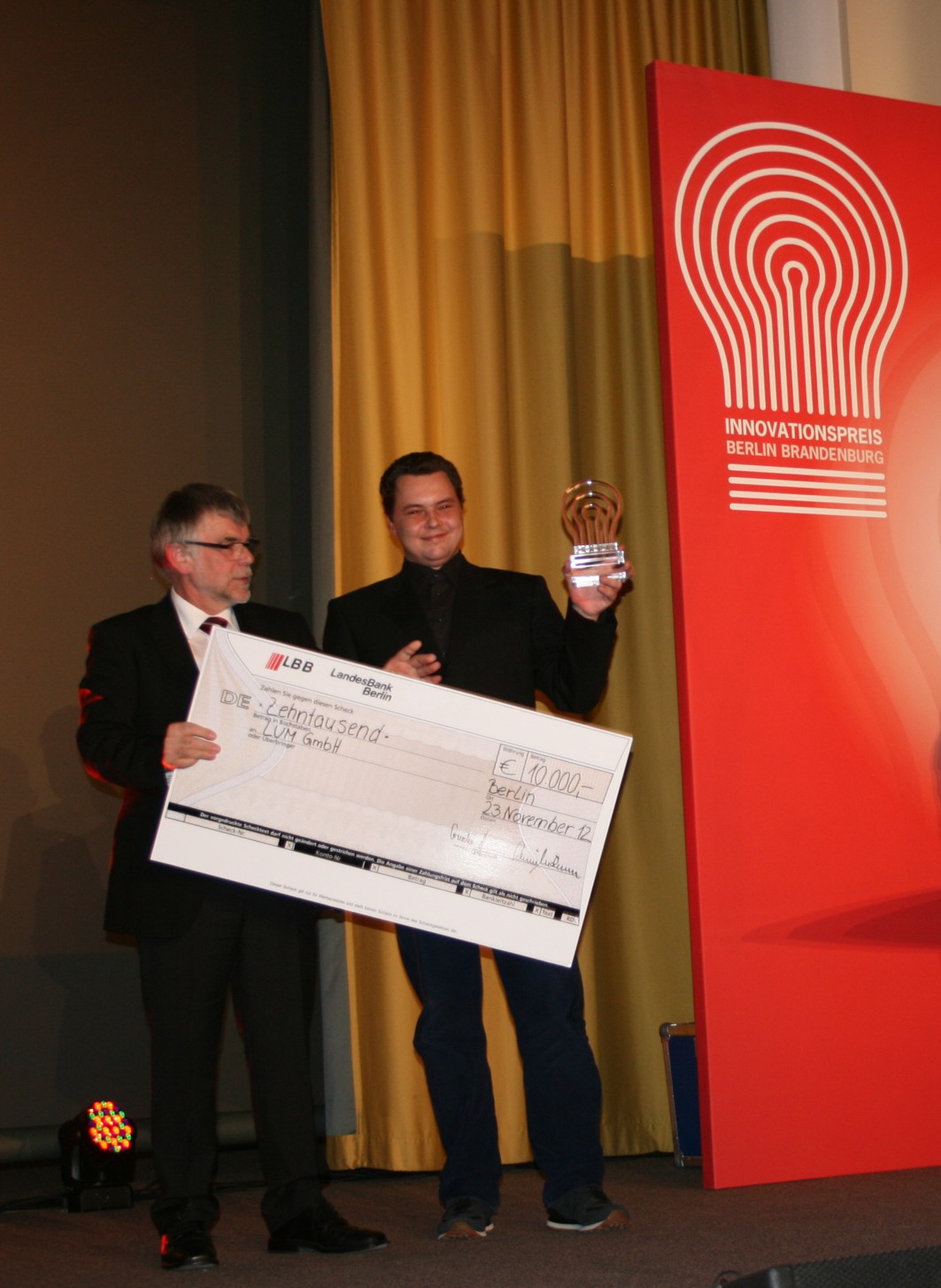 Adhesion Analyser LUMiFrac is a hot favourite for a prize
LUM is nominated for the Innovation Award Berlin-Brandenburg 2012 (Berlin, 26.10.2012)
Two become one – Multi-wavelength-LUMiSizer® 65x
Higher benefit in nanotechnology and for beverage development (Berlin, 22.10.2012)
LUM GmbH moves into new headquarters in Berlin-Adlershof (Berlin, 08.08.2012)
LUM GmbH extends international service network

Authorized service partners cover now entire NAFTA zone and France (Berlin, 31.07.2012)
LUM GmbH educates international sales partners for further growth
Technical and intercultural exchange at Berlin-Adlershof headquarters in February (Berlin , 13.02.2012)
Magnetic particles in fabric softeners and nanotubes in creams?
3rd International Workshop Dispersion Analysis is held on March 1-2 in Berlin
(Berlin, 23.01.2012)
LUM sponsors international conferences of Chemical Engineers and Biotechnologists
Experts meet at ECCE/ECAB in Berlin from 26-29 September.
Paper coatings, Pickering-Emulsions and Magnetite
LUM-Analysers in the front line of colloid science –ECIS 2011
Berlin, 12.9.2011
Particle characterization made by LUM opens new horizons
LUM presents innovations during PSA 2011 conference in Edinburgh

Über Grenzen hinweg
Fachübergreifendes 4. Anwenderseminar zu Stabilität und Rheologie vom 16.-18. Mai
11.4.2011
What have Texas Tea and milk, ink-jet inks and ceramics in common?
Comprehensive programme at International LUM-Workshop on 17 March 2011
31.1.2011
International Workshop 2011: John Tobin from the Irish Agriculture and Food Development Authority
talking about the stability of model dispersions in dairy systems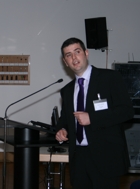 LUM presents new products and innovations during SEPAWA 2010
12.10.2010
Trend-setter in emulsion characterization 2010
LUM's scientific contributions to World Congress on Emulsions
12.10.2010
LUM sets benchmarks in analytics of fluid particle separation
Keynote lecture about sedimentation and consolidation of
suspensions on ECFPS 20.9.2010
Charakterisierung von Nano- und Mikrodispersionen in
Oberhausen am 28.9.2010
Applikationstag von LUM GmbH, Thermo Fisher Scientific und Anasysta
25.8.2010
LUM sponsert internationales Branchentreffen
der Papierindustrie 2010
Die Fachwelt trifft sich zum PTS-Papiersymposium
vom 7.-10. September in München
19.8.2010
Charakterisierung von Nano- und Mikrodispersionen
in Berlin am 8.6.2010
Applikationstag von LUM GmbH, Thermo Fisher Scientific und Anasysta
29.4.2010
LUM on 6th World Congress on Particle Technology 2010
New trends on the scientific congress in Nuremberg
13.4.2010
Cross-analytical characterization of particles and dispersions at POWTECH
If dispersion stability, particle size & shape or flowabality of powders matter, visit POWTECH 2010 – Hall 6 Stand 6-114
12.4.2010
New ideas and products from Berlin-Adlershof out into the big, wide world
LUM GmbH welcomes world-wide sales partners in February
25.1.2010
Cross-analytical dispersion and particle expertise at ACHEMA
If dispersion stability, particle size, particle shape and dielectric constant matter, visit ACHEMA 2009
Hall 6.3 LUM Booth P23-Q23
30.4.2009
LUMiSizer® – Comprehensive Stability Analysis and Particle Characterization in Ceramic Industry
Product HIGHLIGHT at ACHEMA 2009
Hall 6.3 Booth P23-Q23
6.4.2009
Entmischungstester LUMiCheck®
PRODUKTNEUHEITEN zur ACHEMA 2009
Halle 6.3 Stand P23-Q23
7.4.2009
LUMiSizer® – Umfassende Stabilitätsanalyse und
Partikelcharakterisierung in der keramischen Industrie
PRODUKTHIGHLIGHT zur ACHEMA 2009
Halle 6.3 Stand P23-Q23
6.4.2009
Charakterisierung von Nano- und Mikrodispersionen
in Berlin am 22.4.2009
Applikationstag von LUM GmbH, Thermo Fisher Scientific und Anasysta
27.3.2009
LUM strengthens international sales
10th International sales meeting of LUM GmbH in Berlin-Adlershof
22.1.2009
Gold Award for LUM-Researchers
The Filtration Society Gold Medal bestowed upon T. Sobisch et al.
7.5.2008
On the photo (download >>) from left to right: T. Sobisch (LUM GmbH), D. Lerche (LUM GmbH), L. Holliday
(Chairman of The Filtration Society), T. Detloff (LUM GmbH), M. Beiser, A. Erk (Universität Karlsruhe)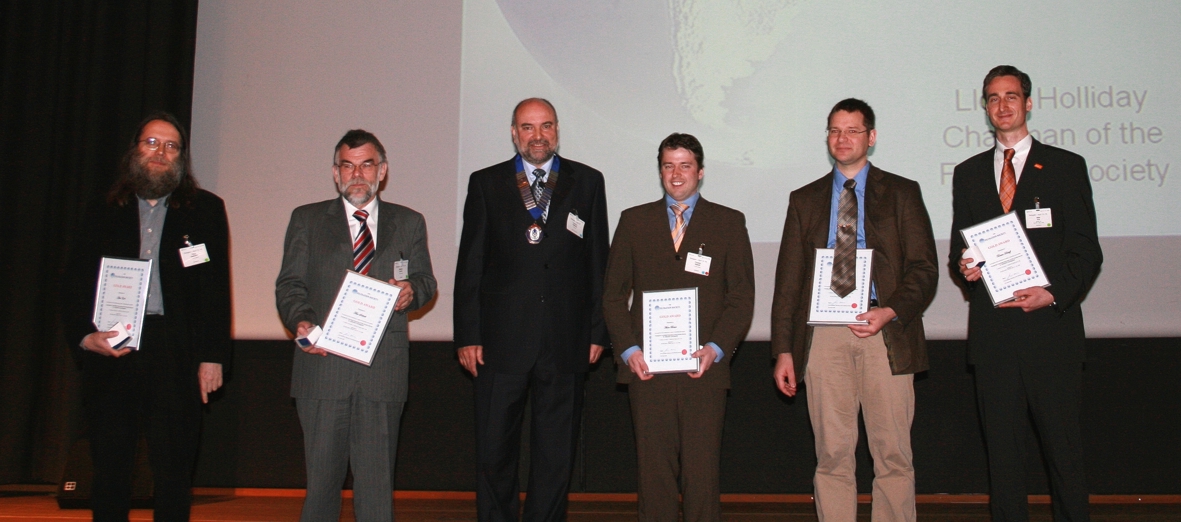 LUM GmbH certified according to DIN EN ISO 9001:2000
Renewed certification part of constant quality policy
30.4.2008
9th International Sales Meeting at LUM GmbH in Berlin, Germany
LUM welcomes world-wide partners at headquarters in Berlin-Adlershof
11.02.2008
Analytical centrifugation – LUM´s successful analytical method for the Ink Jet Industry
Invited lecture in Lisbon and Sponsoring of Power of Ink-Jet Materials V in Berlin
22.10.2007
Texas-Tea in the Silicon Hills
LUM moves location of US subsidiary LUM Corp. to Austin, TX
13.08.2007
8th International Sales Meeting at LUM GmbH in Berlin, Germany
LUM welcomes world-wide partners at headquarters in Berlin-Adlershof
23.04.2007
On Track of the Tiger
Expansion of Asian Sales Network results in LUM's growth in Berlin
8.11.2006
Mr. Moshe Shmilovitz (Tetrasense Scientific Tools, Israel, left) and Mr. Kunio Sasaki
(Nihon Rufuto, Co., Ltd., Japan, right) awarded top distributors within the global LUM sales
network by Prof. Lerche, MD of LUM GmbH
Hot and Cold Dispersions
Rapid Shelf Life Study with Universal Stability Analyser LUMiFuge®111
31.08.2006
7th International Sales Meeting at LUM GmbH in Berlin, Germany
World-wide partners of LUM meet at headquarters in Berlin-Adlershof
09.05.2006
The cooperation for software development is continued
A new specialist from the Ukraine is visiting LUM
20.02.2006
Working with Leonardo da Vinci at LUM
Why young international graduates work in Adlershof
16.12.2005
Dispersion and Particle Analysers with ultra-modern analytical centrifuges
L.U.M. in strategic partnership with EPPENDORF
18.10.2005
TRENNUNG VON FEINSTPARTIKELDISPERSIONEN IN ZENTRIFUGEN
Berlin, 04.08.2005
Internationale Forschungskooperation mit PRO INNO:
Auf Expansionskurs dank Know-how aus der Ukraine
Berlin, 15.07.2005
Japanischer Distributor ausgezeichnet für Vertrieb
deutscher Dispersionsmesstechnik
Berlin, 10.05.2005
LUM GmbH auf der European Coatings Show 2005
Berlin, 22.04.2005
6. Internationales Salesmeeting der LUM GmbH
in Berlin-Adlershof
Berlin, 19.04.2005
LUM verstärkt den Vertrieb analytischer
Dispersionsmesstechnik in der NAFTA-Region mit eigener US-Tochterfirma
Berlin, 07.01.2005